How odd it is that a few days ago, I was ready to post another personal post because I know just how long I haven't - which was about a month since the last time I did. So anyway, there I was, wide awake at two in the morning, trying ever so slightly to fix my body clock yet only ended up failing time and time again, when I suddenly thought of something to write. And basically, it sort of went like how I've realized that night - right at that very moment - how utterly calm I've been these past few months. That for some unknown reason, I wasn't anxiety-driven. I didn't have this great feeling of discontent and discomfort, and this yearning urge to know what's to come next for me. That that was such a miracle in itself that I simply couldn't be any more amazed or be surprised at. And you know what? Yes. Yes, I was calm... Until a few days later after I realized that, then I sort of wasn't calm again. But not the kind of feeling that I've had before - the ones you have witnessed time and time again on my previous blog posts starting from a few years ago when I felt like everything was a bit bleak, no matter how much I've tried to be optimistic.
And of course, I can also tell you that that's a relief.
Why?
Well... If I didn't have a few
"neurotic"
moments here and there, then that would just be strange that that wouldn't be, y'know, me. I guess I've been a bit frustrated since yesterday with more than a few responsibilities on my plate, and that just happens, y'know? Not to mention, feeling like utter crap since last Friday, which is also quite odd, but yeah, that happens too. Perhaps it's also because my phone finally gave up on me and won't boot last Friday, too. But oh well... I'm feeling much better since last night, when I've channeled my old self and told myself to "Fuck it," so that was nice and that really helped. Haha! But yeah, I'm here to catch you up on things since my last post here.
The thing was, October was filled with birthdays from my friends. First, there was Dane's birthday last October 13th. Now, she has been very busy - just as my other friends were - with studies and everything, so she really didn't have much time to celebrate. But, we made plans that day since I told her that I can come over to Taft, Manila because she finally moved to a loft near her school, which will make her crazy schedule easier to deal with, and we can have a celebratory lunch. She also wanted me to see the loft and come over there, and I did want to see it too, so yeah, it was perfect because she didn't have classes until four PM. Then, around four thirty, I took the shuttle home from Taft, and I must say that I really did miss the place. ;)
That Saturday though, October 18th, she wanted us to have dinner along with the gang, and so we did. It was fun to be with these amazing people again. I really did miss them. :)
Next was Johnrey's birthday, which was last October 20th, Monday. He celebrated it with his family by having dinner at a Japanese Restaurant. And at first, he really didn't want to, but he couldn't possibly resist. I've already told him about it, and I did say that it was good, so he was definitely intrigued. Besides, he turned eighteen that day, so it definitely needed to be celebrated. ;) The next day however, as planned, we went out so we can celebrate it together. Basically, I accompanied him as he went shopping, as always. It's our inside joke that I was his stylist (I guess, it's not an inside joke now lol ;P), but yeah, it was fun, and I do enjoy doing it with him, so why not? Haha! In the end, we were happy with our finds that day, and that was just exhilarating! We then hung out here at my crib and watched a few episode of
Undateable
, because Chris D'Elia is hilarious and he's our favorite, and if you haven't seen his show, then you're seriously missing out on amazing stuff, so yeah. ;P Afterwards, we called it a night, and it was great day indeed. ;)
That week, Pam suddenly wanted to do a costume party for her birthday that happened last October 30, Thursday. But of course, my other friend, Jak's birthday was last October 25th, though he didn't really want to do anything, and probably because he's busy with his studies too. Anyway, I spent a week trying to figure my costume for Pam's party, because she really did want everyone to dress up. And with that said, she and her sisters came up with this idea that there will be a prize for the best costume to give us a little motivation. Although, I didn't exactly need it because I was game with it, y'know? Besides, it's been a really long time since I've dressed up for Halloween, so yeah. Not to mention, it was her birthday and that's what she wanted.
So for my costume, I had three choices:
Carmen Sandiego - She's a character from an old PC game that my sister and I used to play when we were kids. She used to be a really good spy or detective that turned into a criminal mastermind, and basically, in the game, you need to be able to catch her. Needless to say, it was fun. And who wouldn't want to dress up as a spy-turned-criminal, right?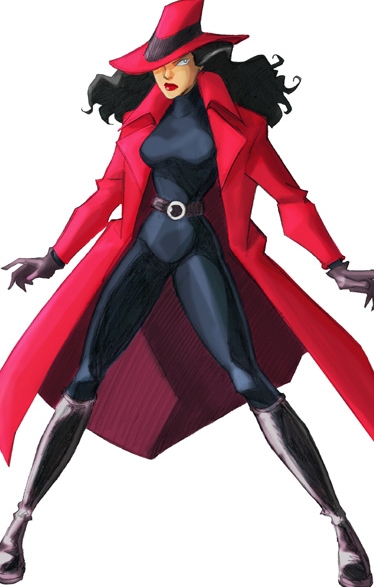 2. Wendy Beauchamp - or Aunt Wendy the Cat. She's a character from Witches of East End who was cursed to turn into a cat and have literally have nine lives. One can tell how many lives she have left on her amulet necklace that changes colors. And basically, not only is she an awesome character, but she also has a great sense of style with her different kimonos and all. ;) You might also remember Madchen Amick (the actress) from Gossip Girl season 2, when she was the Duchess Catherine Beaton. ;)
3. Taylor Momsen - This what Pam and her sisters expected me to dress as. And you know what? I would've, no doubt, but the thing was I couldn't possibly look for a long-ass platinum blonde wig on such short notice. Still... It was definitely tempting, but oh well. I guess I'll try it out next year. ;)
Anyway, I was trying to figure out which of those three choices I had above would be best. And for a while, I did lean on Taylor Momsen - most definitely - but I had wig problems. Haha! So, just four days before Pam's birthday, I threw all of those choices away and basically came up with something else. You see, I suddenly remembered that my mother recently bought this dress for a reunion that had a sort of renaissance feel to it. And no, it wasn't a ball gown or anything. It was a cute cocktail dress, but the print did give that vintage, fifteenth century vibe to it. Then, I suddenly thought of being a vampire!
Huzzah!
I knew immediately what kind of feel I would bring to it, and basically this was how I described my costume: "A Renaissance royal turned vampire with a modern twist." (Due to the hem of the dress, if it was a floor-length gown, then I probably would've ditched the whole "modern twist" description, lol ;P) So yeah, that was it! I made some fake blood to go a long with it, because for some unknown reason, it was Halloween and yet nobody was selling fake blood, so I made them myself with a recipe I saw on Pinterest. And there, three days before her birthday, I went around looking for stuff, but in the end, I didn't really need to because my mother also had some black lace, fingerless gloves - which was definitely perfect for the vampy-look, a rosary-ish necklace with a crucifix, and a cape. And to still have my own Taylor Momsen flair to it, I decided to go with Raccoon eyes, since it has been a really long time when I sported that look, too. Somehow, having them made me feel like I was back in 2010 when I always liked to have smokey eyes whenever I was at some party or something.
But yeah, on the day itself, I can pretty much say that I pulled off really well. I mean, with the fake blood and all, and without the fangs. But I did ask Pauline if I looked like I just ate somebody for dinner after I applied it, and she pretty much said yeah. Haha! We had so much fun, and everyone had their own costumes, even if some were made the last minute. I also brought the Harry Potter card game that we loved to play back when we were twelve years old, which was called Gnome Toss, and of course, it was fun too! The surprising part of the night was the fact that I won the prize for Best Costume, and I have those people who voted for me to thank! I couldn't be any more grateful.
Night well spent, indeed.
Also October was definitely amazing. ;)
*From Pam's Instagram. :)*
And that ends my personal post... Thank you for reading and for catching up with me! I also hope that you enjoyed this post, not to mention, the month of October. Together, we head on to November, and I hope that all of us will have a blast as we prepare for Christmas! ;)